https://www.discogs.com/Johann-Sebastian-Bach-Helmuth-Rilling-Die-Bach-Kantate-BWV-33-BWV-78/release/7990787
Part three of the BWV 33, an aria, is really beautiful. That kind of thing forms the reason I have these records. Mostly they are not very interesting, or you have to be a fanatic. But every now and then a little gem like that pops up.
The booklet for that aria has a list of all recording Rilling made for the Cantatas from that year. It gives a nice overview, but weirdly one without BWV 33, because that one was first performed at a later date in the same year.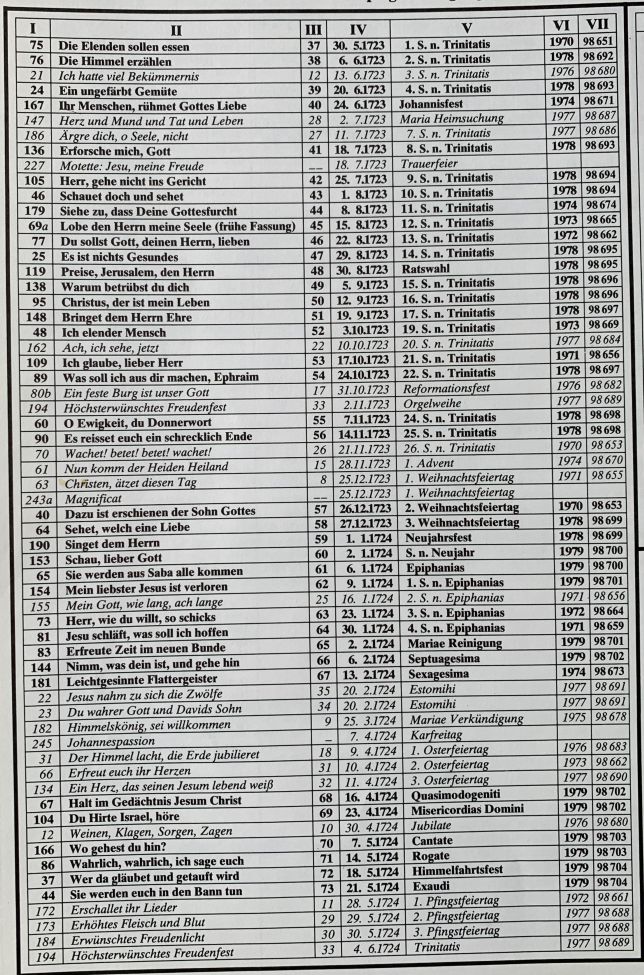 Column V refers to the place for the cantata in the canonical year. Trinitatis is the Sunday after Pentecost. Since Pentecost is linked to Easter, and Easter is celebrated on the Sunday after the first full moon of Spring, it means the whole range of Sundays after Trinitatis are based on a lunar calendar. The exact date on the solar calendar changes depending on the year.
This relationship with Trinitatis was used a lot, for instance for the dates of baptisms in church registers. It means that to put a specific date in history might be a very complicated thing.