https://www.discogs.com/release/1709929-Otto-KettingNetherlands-Opera-Choir-Johannes-Mikkelsen-Philharmonic-Orchestra-Of-The-Netherlands-Luc
Already in the early sixties, the city of Amsterdam was looking for a new house for their political and administrative centre. The old city hall was too small and too old to function adequately. Several architects were asked for designs. Some brave and challenging results were offered, and a rather bland design from Rem Koolhaas was chosen as the winner.
An additional challenge was that the new city hall had to be combined with a building for the national opera. They were looking for a home for a long time, so the goal of the project was twofold. A piece of land was already cleared. In an outrageous move, the city decided to flatten six streets of the old Jewish neighbourhood. Most of these houses were in a bad state, so it was better that way, it was said. Arguments and protests to the contrary were not listened to, and the building was built just the same.
To be opened in September 1986, inaugurated with a new opera. Dutch composer Otto Ketting wrote the music, and most of the singers were Dutch. The production was more Dutch than anything the national opera produced since.
I am a fan of the venue, on the inside. I think it is looking stunning. From the outside the opera part is in my opinion daring, but not overly so. The rest of the building is a terrible monstrosity. They did some renovation works recently that makes the inside of the city hall look a little more up to date, but I have just seen part of it.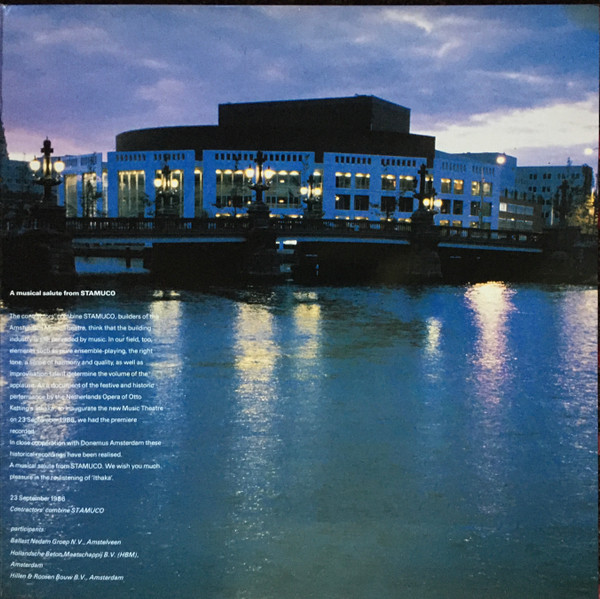 One might say the same of this opera. It stands as a sign of its time, and has been totally forgotten and ignored because of it. The eighties were a time of good music, but not of the classical kind. A sense of great artistic confusion clouds that time.