https://www.discogs.com/release/7760725-Various-A-Salute-To-American-Music-The-First-200-Years
In the seventies and eighties there were dreadful stories about people buying stuff they couldn't afford. Lots of companies discovered the buy-now-pay-later idea. I don't know if they were already using separate financing companies for dealing with the customers, but they certainly didn't have many scruples where that handling was concerned.
One of those companies was the publisher Reader's Digest. I couldn't find anything on wikipedia about this. The wiki page just mentions the history of the publishing giant, and the idea behind it. Reader's Digest took out digests of magazine articles from elsewhere, and collected them in a monthly publication. Reader's Digest was popular among the Republican voting part of the US, and bore a clear conservative signature.
Already in the fifties and early sixties they branched out to Europe. In Germany and my country it was known as Das / Het Beste. My father had a book of roadmaps in the car called Het beste boek voor de weg, and I always thought that it really was that: the best book for (finding) the road. The day before leaving, my father was studying it with great zeal: there was no navigation yet, so it had to be done by hand (and with a lot of arguments with my mother).
So publishing a magazine was not all they did, and this collection of records is another example. This box consists of 12 records with renditions of classic American songs through the ages. I have listened to it after I bought it, but I never finished it. This is the first record that for this blog I listened to for the first time. And with reason: it is terrible.
But why did I mention the financing companies? In the booklet I found these interesting notes that shed some light on the previous owner. Apparently it was bought for the huge sum of 169 guilders. That is now roughly divided by 2 to get the amount in euro. It is for sale on Discogs for 5 euro, and even that seems too much in my view. Moving on.
The new owner was only able to pay the 169 guilders in small parts, even though Reader's Digest was pushing for the remainder to be paid. I think it was a struggle for the previous owner, and maybe the saddest thing about this is that s/he didn't enjoy it that much: from what I see it was barely used. It smells like a rip-off.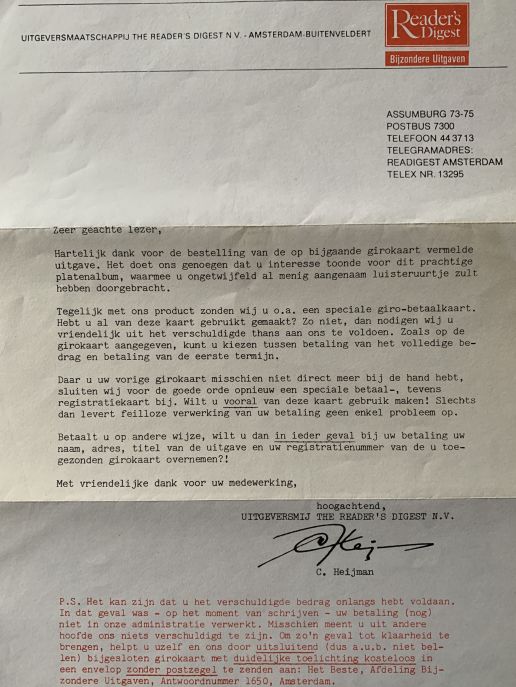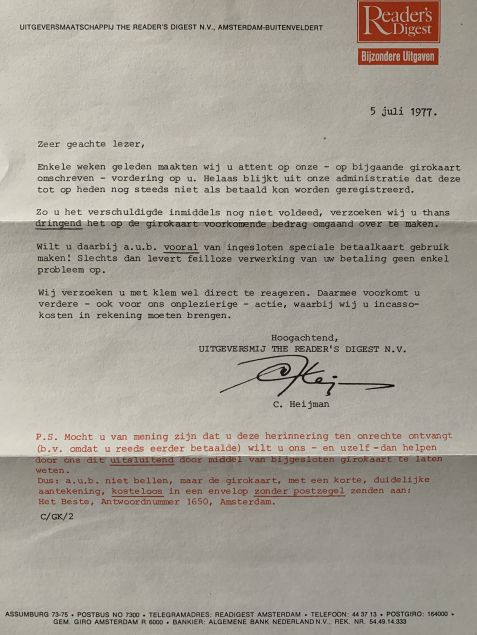 What exactly happened, I have no idea. A seven part payment schedule is proposed, and the terms are written down in what looks like the hand of an older man. But the letters seem to suggest that the payment schedule was either not kept, or never accepted.